My Memory of June 12, 1970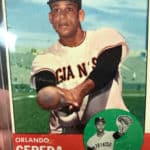 Before there were Vegas suites and breakfasts for 10….before there was even a hotel called Mandalay Bay, there was me growing up in the Bronx, NY. Well, growing up is a relative term, let's just say I spent 8 of my first 13 years in Co-Op City, a development of apartment buildings that was built upon the site of a defunct amusement park known as Freedomland. My parents left the lower east side of Manhattan and an old apartment building on Grand Street to join the throng of people moving to this new place. We moved into building 4 and there ended up being almost 40 buildings built in total. Each building had 3 sections and each section had 26 floors. And each floor had roughly 6-8 apartments, so do the math and figure out just how many people moved to this place. It was like a big city within the big city.
One of the redeeming features of Co-Op City was that it was within a short ride to Shea Stadium, home of the Amazin' Mets. My father had been a Brooklyn Dodgers fan and had his heart broken along with millions of others when the dastardly Walter O'Malley moved the Bums to Los Angeles and couldn't ever bring himself to root for that American League team in New York. Man, he hated the Yankees. So he bided his time and when the Mets came into existence he became an instant fan, bought season tickets and went either with my mother or his friends to about 50 games a year. In 1969, he was lucky enough to be at the World Series at Shea but was actually in Puerto Rico watching the deciding game when Cleon Jones caught a fly ball, went to one knee and pandemonium ensued.
I was only 5 years old in 1969 and in an age where not all of the games were televised what 5-year old kid had patience to sit next to a radio and listen to a broadcast? But just a year later I experienced what I didn't know at the time was one of the highlights of my childhood. My father had a friend who played baseball and that friend was coming to Shea Stadium to play against the Mets.
My dad was in the Spanish record business at the time, he was a printer. He would go and meet with the owners of Spanish record labels in New York, they'd hand him negatives for what was to become of the album cover, and my old man did the rest. He got the negatives to the actual printers, had everything created and assembled and after a while he'd go back to the record labels with hundreds (and in rare cases thousands) of album covers into which records would be inserted. I can remember to this day having filing cabinets in my house choc full of photo negatives that had been used for albums, my father kept them in case a label owner wanted to repress an album.
One of the guys my old man did business with a guy named Charlie who had a label in Puerto Rico. So every 8 weeks when I was a kid I went to San Juan and stayed at the Americana Hotel, which doesn't exist anymore but was right next door to the El San Juan. This must've gone on from when I was 5-6 until I was 10-11. And Charlie had a friend who played baseball for a living at the time and introduced him to my father, and over time my father and the baseball player became friends.
So it was that on June 12, 1970, I went with my father to see the Atlanta Braves play the Mets. We got there early, my old man had secured seats behind home plate about 15 rows back. And when Orlando Cepeda saw my father he waved at him, pointed at me and called me down to the railing while the Braves were taking batting practice. Cepeda lifted me over the railing (imagine that happening today) and shook my hand, taking me over to some guy named Hank Aaron so that I could shake his hand, and then took a photo with me on the field. That photo exists somewhere in my home, my wife had it blown up and I believe it hangs in the basement but I'm not certain.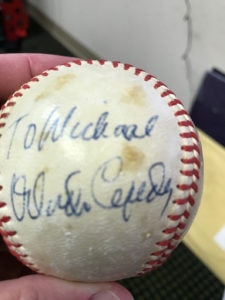 Cepeda also autographed 2 baseballs right in front of me, one which is in a photo I've attached and the other…..this is pretty embarrassing…..was signed by Aaron and Cepeda, and which I used at some later date in an actual baseball game. Needless to say, that ball is lost to time. He also gave me one of his bats which I still have and which I have shown to my daughters' respective boyfriends when they first visit the house. I grew up telling my girls I'd show the bat to their boyfriends and wanted the boys to know that I wasn't kidding.
The Mets won the game that day 8-1, Gary Gentry besting Phil Niekro. And the Braves scored their only run on, you guessed it, a Cepeda home run.
In later years Cepeda was convicted on a drug-related offense when he went to the San Juan airport and picked up a suitcase at baggage claim and was immediately arrested. He claimed, and my father's friend Charlie claimed, that he was just there to pick up a suitcase and bring it somewhere, so who knows if that was really it or if he was involved in something he shouldn't have been involved in.
My father and Cepeda kind of lost touch during Cepeda's time in prison, but sometime in the early 1990s I was listening to sports radio in NY and heard that Cepeda was going to be a guest. He had got himself a gig as a special advisor in the SF Giants front office. I phoned my old man and told him, and my old man actually called into WFAN, told Cepeda "Orlando, it's Jay" and after they spoke on the air they spoke again off the air. They updated each other on their lives and talked about the old days, about Charlie, about baseball, kids, etc.
I'm not sure if they ever spoke again, Cepeda was living outside of San Francisco and my father passed away in 1998 so it's possible they did. And I'd like to think they did. But whether they did or didn't, nothing can erase the memory of June 12, 1970. I got a bat, a couple of baseballs, a picture on the Shea Stadium field with a future Hall of Famer and memories that will last a lifetime.
Happy August BVL, keep rolling.